http://www.beckershospitalreview.com/legal-regulatory-issues/former-director-of-finance-charged-with-embezzling-1-5m-from-unc-hospital.html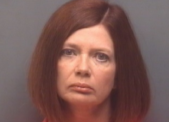 The former director of finance for UNC Regional Physicians was charged Tuesday with embezzling more than $1.5 million while she worked at High Point (N.C.) Regional Health, part of Chapel Hill, N.C.-based UNC Health Care.
The former High Point Regional Health employee, Kimberly Hobson, was charged with felonious embezzlement, according to the Winston-Salem Journal.
Hospital officials discovered the alleged embezzlement July 28 and subsequently fired Ms. Hobson.
She is being held at High Point jail on $1 million bail. Her next court date is set for Sept. 15.
The investigation into the alleged embezzlement is ongoing on the state and federal levels, according to the report.