https://www.healthaffairs.org/do/10.1377/hblog20200615.238552/full/?utm_campaign=HASU+6-21-20&utm_medium=email&utm_content=COVID-19%3A+Face+Mask+Mandates%2C+Immigration+Detention+Facilities%2C+Symptom+Monitoring%3B+Treatment+Of+Opioid+Use+Disorder%3B+Supreme+Court+LGBT+Decision%3A+Implications+For+The+ACA&utm_source=Newsletter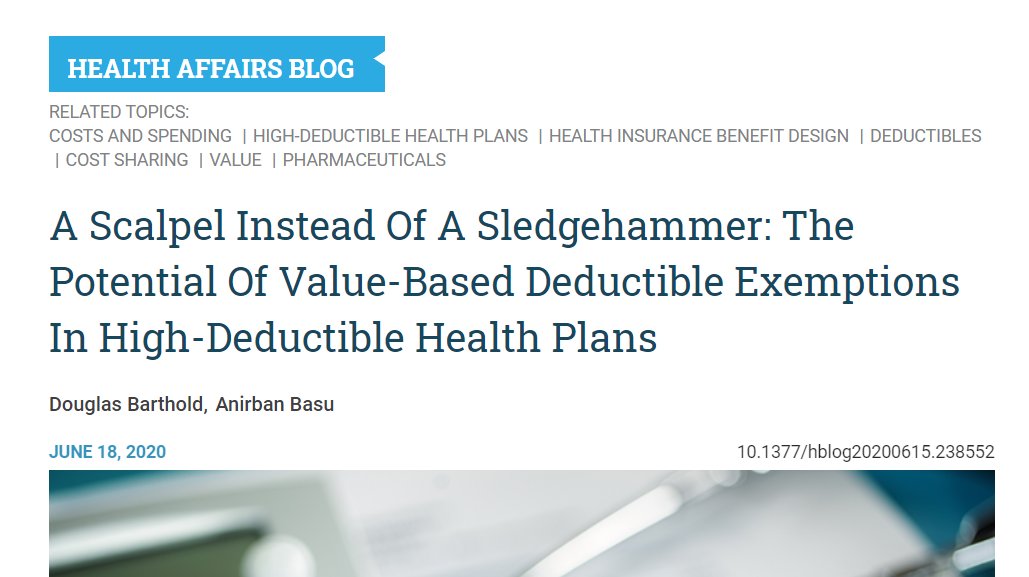 High-deductible health plans (HDHPs) covered more than 30 percent of enrollees in employer-sponsored plans in the United States in 2019, up from 4 percent in 2006. In 2020, the Internal Revenue Service defines HDHP as any plan with a deductible of at least $1,400 for an individual or $2,800 for a family. An HDHP's total yearly out-of-pocket expenses (including deductibles, copayments, and coinsurance) cannot be more than $6,900 for an individual or $13,800 for a family. However, this limit does not apply to out-of-network services.
The growth of HDHPs is driven by the pursuit of reduced health care spending and premiums for both employees and employers through channeling elements of consumerism and managed care. Often, HDHPs are offered along with a savings option (health savings account or health reimbursement arrangement) in a consumer-directed health plan.
Recently, however, there have been concerns about the out-of-pocket cost burdens imposed on patients by HDHPs and other plans. Reducing these costs has been the focus of major policy proposals, including prescription drug bills from both the House and the Senate; forthcoming plans for the Center for Medicare and Medicaid Innovation to test value-based insurance models following the president's executive order 13890 on Protecting and Improving Medicare for Our Nation's Seniors; and H.R. 2774, the Primary Care Patient Protection Act of 2019, which would create a primary care benefit for all HDHP holders, allowing for up to two deductible-free primary care office visits each year.
It is becoming increasingly clear that HDHPs' indiscriminate reductions in care usage may not be the best way to contain health care costs. In this post, we suggest that combining the principles of HDHPs and value-based insurance design (VBID), by offering deductible exemptions for high-value services, could provide nuanced incentives with potential to preserve access to the most important services while reducing use of only more wasteful care.
Why Did HDHPs Fail To Deliver Their Intended Consequences?
The intended premise of HDHPs is that beneficiaries facing the full costs of health care services during the deductible phase will engage in price shopping and subsequently choose care commensurate with expected benefits of that care. The hope is that the combination of lower prices and a different mix of services could increase the value of health care used while also reducing costs. Unfortunately, evaluations of HDHPs suggest that consumers neither price shop nor can they discriminate between high- and low-value care when facing high deductibles; accordingly, they reduce use of both essential and inessential services. Not only is this behavior likely to lead to worse health for beneficiaries, but short-term savings for both the beneficiary and the insurer may be offset by increased long-term spending associated with preventable adverse health events. The lack of the hoped-for response to HDHPs (price shopping and reduction in unnecessary care only) may stem from a lack of price transparency, inability to pay for essential care during the deductible phase, or inadequate information about the value of alternate health care services and technologies.
The evidence on HDHPs should not be surprising. It matches older evidence from the RAND Health Insurance Experiment, where cost sharing caused people to reduce consumption of both appropriate and inappropriate care. The RAND experiment demonstrated that consumers may not have enough information available freely to them to address uncertainty and make rational choices about which services to purchase and which to forgo. For this reason, we suggest a variation on VBID, in which deductible exemptions for established high-value services would inform and incentivize beneficiaries to use the most valuable care, while disincentivizing low-value options. Such recommendations have been made in different forms in the literature but have not been widely adopted.
Tying-In Value Conversations Within HDHPs
VBIDs have developed over the past 15 years on the premise that when everyone is required to pay the same out-of-pocket amount for health care services whose benefits depend on patient characteristics, there is enormous potential for both underuse and overuse of care. It is also true that health services can be underused and overused when there are differential health-related returns across services, but patients are unaware of the differences. VBIDs have been used by insurers as a mechanism to address this information problem, by signaling the value of alternative health care technologies to consumers through variable cost sharing.
To date, most applications of VBID have focused on applying such designs to copays but not to deductibles. Moreover, most applications have applied reduced cost sharing for targeted high-value drugs, and only a few have also implemented concomitant increased cost sharing for low-value drugs. This means that the cost differences that the consumers faced between high- and low-value products continued to be small. Consequently, results of such applications show the promise of VBID, but to a limited scale, owing to the relative inelasticity of demand for care related to small copay variation. Tying value-based cost sharing within deductibles could generate a bigger "nudge" to align use with value.  
Only one study evaluated the application of VBID on cost sharing within an HDHP plan. This research analyzed Kaiser Permanente of Northern California, where patients were switched to HDHPs, but some of them were offered free chronic disease medications. Resulting improvements in adherence due to zero cost sharing for chronic disease medications were shown to offset the HDHP-associated adherence reduction, especially for patients with poor adherence at the start. Importantly, adherence improvements did not occur for more clinically complex patients, or patients living in poorer neighborhoods. The inclusion of active counseling in VBID plans has potential to address these limitations.
In another example of VBID, a not-for-profit health plan in the Pacific Northwest implemented a formulary that tied drug copays to cost-effectiveness. Researchers found larger shifts in demand within drug classes in which copays were simultaneously reduced for high-value treatments and increased for low-value treatments, compared to drug classes in which the copays only moved in one direction. The overall effect of the VBID implementation was welfare-increasing but small, perhaps because the price dispersion faced by the patient between high-value and low-value alternatives was still too low to alter demand.
Other applications of VBID, where cost sharing was removed for primary care visits, were found to reduce total spending, mainly due to reductions in use of emergency department (ED) and other outpatient services. A plan that bundled copays for back pain physical therapy found reductions in ED use, in addition to eventual reductions in primary care use, and better adherence to care guidelines.
Value-Based High-Deductible Plans
We suggest that value-based high-deductible plans (VHDP), which combine the principles of HDHPs and VBID, and have been suggested as "a natural evolution of health plans," could provide a robust alternative in insurance markets and achieve the goals of both low costs and high value of health care delivery. Our enthusiasm for such designs stems from the dispersion of price-elasticities observed when a value-based system was implemented on copayments. We expect such dispersion can be expanded substantially when VBID is applied to develop VHDPs. Specifically, VHDPs would nudge consumers toward high-value technologies (for example, preventive medications) by exempting their costs from the deductibles, while also providing consumers with transparency on the full costs of low-value services (for example, MRI for back pain or headache), and disincentivizing their use. This would generate a more elastic demand for low-value services, which in turn could move the markets for insured health care services toward more efficient outcomes.
In health care, where we know that both quality and value are at least partially unobservable to the patient, efficient outcomes are typically not attainable, especially when cost sharing indiscriminately alters prices. A VHDP would provide nuanced cost sharing to influence behavior in a manner similar to prices in traditional markets, therefore resolving information asymmetries for low-value services, reducing distortions, and increasing social welfare. In addition, such a policy could improve equity by ensuring that all beneficiaries have access to the highest-value services, even in the deductible phase of a benefit package. Such plans are certainly in line with the spirit of the recent bipartisan legislation (signed by President Donald Trump under executive order 13877) that allows health savings account eligible high-deductible health plans the flexibility to cover essential medications and services used to treat chronic diseases prior to meeting the plan deductible.
Challenges To Adoption Of Value-Based HDHPs
While value-based pricing improves beneficiaries' ability to observe value, and therefore reduces the information asymmetries inherent in health care markets, the definition of "value" is an open question. Current legislative options being considered by both political parties in Congress aim to regulate and reduce drug pricing. While these efforts are important, and reduced prices would likely factor into premiums and out-of-pocket costs for consumers, these policy proposals do not necessarily tie price reductions to the value of drugs. That is, they are not tied to any specifically desired outcome of care. As mentioned, earlier VBID applications have been designed to impact health outcomes by using cost-effectiveness in formulary design to signal value. However, many other attributes of care, in addition to cost-effectiveness, should be considered by payers (both public and private) in determination of deductible-exemption status in a VHDP. These attributes include if a service has positive externalities (such as vaccinations) and if a service is unlikely to have moral hazard consumption (such as trauma care or chemotherapy). These, and other elements of value, could be included in decisions about which services should be exempt from the deductible. The decision of which elements to consider in this decision will depend on the stakeholders and perspectives (for example, payer, health system, employer, societal).
A potential downside of VHDPs is plan complexity, but improved communication (perhaps through health plan stewards) could address this limitation; active counseling has already been effective for this purpose in VBID. It would be relatively straightforward to incorporate the cost-sharing design of VHDPs to a value-based tiering system, now widely used in cost sharing.
Qualitative studies of VBID have identified additional barriers to VBID implementation. For example, patients are skeptical of value-based tradeoffs, do not necessarily trust the information provided by their plan, and may resist changes in care delivery. Payers tend to be skeptical of the clinical significance of adherence improvements from VBID and have expressed concern over low return on investment and administrative and information technology hurdles. Finally, providers are concerned about changes to patient behavior that puts their practice at financial risk.
These concerns are important, but potentially addressable with education and carefully planned implementation, to allow VHDPs to strike a nuanced balance between reducing moral hazard consumption of care and adequate risk protection. Such a balance is critical to controlling health spending while maintaining access to the highest-value services and reducing financial uncertainty.