https://www.washingtonpost.com/news/powerpost/paloma/the-health-202/2018/11/21/the-health-202-here-s-how-trump-and-bernie-sanders-agree-on-lowering-drug-prices/5bf42bd91b326b3929054956/?utm_term=.143e3b258cb2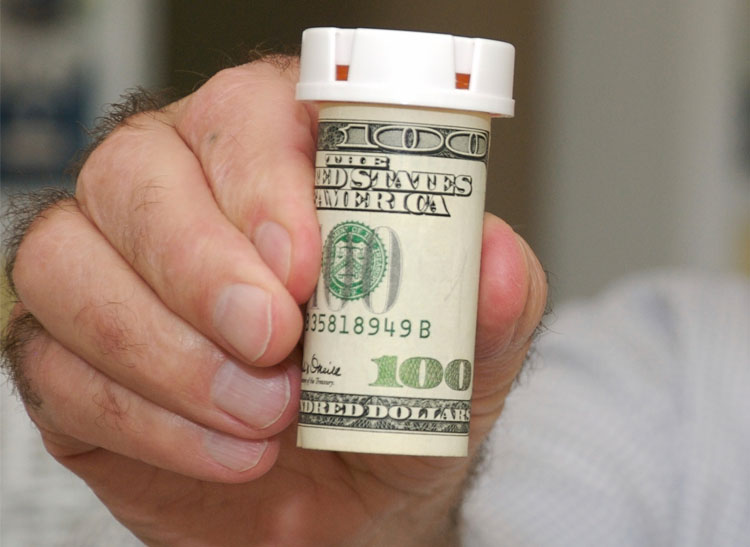 Have you heard about the trendy new approach to lowering prescription drug spending? Copy other countries.
The Trump administration and Sen. Bernie Sanders (I-Vt.) are strange bedfellows on drug prices. But they're both eyeing similar approaches to lowering the country's astronomically high spending on prescription medicines: pegging U.S. drug prices to lower international levels.
Sanders proposed a bill Tuesday incentivizing companies to develop cheaper generic versions of brand-name medications that the government determines to be "excessively priced" in comparison to the median price in Canada, the United Kingdom, Germany, France and Japan.
This is similar to an idea advanced in October by Health and Human Services Secretary Alex Azar, whose agency is experimenting with pegging some Medicare payments to an index based on sales prices in those five countries plus 11 more: Austria, Belgium, the Czech Republic, Finland, Greece, Ireland, Italy, Portugal, Slovakia, Spain and Sweden.
Both proposals stem from the reality that drug prices are much higher in the United States because the government doesn't engage in price-setting, unlike in many other countries with similar economies. That means pharmaceutical companies pocket a lot more money in this country — and rely more heavily on their U.S. profits to pay for developing new medications.
Trump and Sanders have adopted similar rhetoric when they talk about the issue, even though the Republican president and the self-described democratic socialist senator couldn't be further apart on other topics such as taxes and immigration. The United States pays unfairly high prices for prescription drugs, they argue, even as other countries demand — and obtain – steep discounts.
It's not the first time Trump and Sanders have shared common ground. During their 2016 campaigns, both candidates advocated allowing Medicare's prescription drug program to directly negotiate lower prices with drugmakers and private companies. Trump has since backed away from that idea, but HHS surprised many with its bold suggestion of  creating an international price index (which I explained in this Health 202).
Granted, HHS's experiment is quite limited in scope. It applies only to drugs administered to Medicare patients by doctors themselves and will last just five years. The experiment — called a "demonstration" in administration-speak — won't start until sometime after the Centers for Medicare and Medicaid Services propose a rule early next year.
Sanders's proposal, also sponsored by Rep. Ro Khanna (D-Calif.), would go much further by affecting all drugs, including those purchased by Americans with private health insurance. If HHS determined a drug price to be excessive, the secretary would be directed to strip its maker of exclusivity rights and open the door for competitors to develop a generic version.
Sanders gave a nod to Trump's Part B proposal but emphasized that his approach would help the more than 150 million Americans who get private health coverage from their employer. The monthly cost for the popular insulin Lantus (used for diabetes) could fall from $387 to $220 and the medication Humira (used for arthritis) could fall from $2,770 to $1,576, according to some examples provided by Sanders's office.
There's little to no chance Sanders's bill will advance in Congress. Many Republicans aren't enthused even about Trump's limited Part B demonstration, because it smacks of government price-setting.
There is something else Sanders shares with the president: strong resistance from the pharmaceutical industry. A spokeswoman for the Pharmaceutical Research and Manufacturers of America said both proposals would be "devastating" if implemented.
"This legislation would have the same devastating impact on patients as the administration's proposed International Pricing Index model," PhRMA spokeswoman Nicole Longo said in a statement provided to The Health 202.
"Patients in countries whose governments set prices wait years for new medicines and have far fewer treatment options," she added. "These policies reduce investment in research and development, slow progress in creating tomorrow's cures and will result in Americans having access to fewer new medicines."