https://www.bizjournals.com/washington/news/2017/07/18/kaiser-permanente-eyes-200m-medical-hub-in-prince.html?lipi=urn%3Ali%3Apage%3Ad_flagship3_feed%3BjOr1uQoFRSCV0kd0MJgD3Q%3D%3D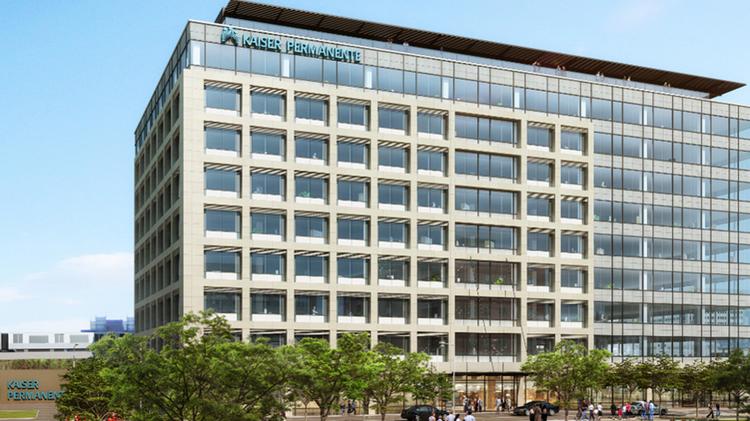 Kaiser Permanente of the Mid-Atlantic States is seeking approval to build a $200 million medical facility in Woodbridge as a "hub" for its ongoing growth in Greater Washington.
According to an application filed with Prince William County, Kaiser officials propose a 270,000-square-foot, five-and-a-half story medical center on a 15-acre parcel the company already owns at 13285 Minnieville Road. The project would include 1,270 surface and structured parking spaces and a plan for future expansion of about 65,000 square feet.
Kaiser officials declined Tuesday to comment about the project, but the application says Kaiser wants to make it the health system's sixth hub in the region to offer urgent and specialty care. The company has been aggressively growing its footprint across the region in recent months in an apparent bid to gain market share in the already highly competitive Northern Virginia health care business.
The Woodbridge space would include space for adult and pediatric care, women's health services and pharmacy, lab, optometry and outpatient surgery. It will also include virtual visit technology, an MRI suite and consult rooms. The Kaiser hub model offers specialty care for issues that are too complex for a doctor's office but do not require a multiple-day hospitalization.
"Kaiser plans to continue to expand throughout Maryland, Virginia and Washington D.C. based on the needs of the community and its growing membership base," officials said in the application.
The company, an affiliate of health care giant Kaiser Permanente, is headquartered in Rockville. It has more than 710,000 members in Maryland, Virginia and D.C. and comprises Kaiser Foundation Health Plan of the Mid-Atlantic States Inc. and The Mid-Atlantic Permanente Medical Group PC, an independent medical group of more than 1,300 physicians.
Kaiser has partnerships with 11 area hospitals, including Virginia Hospital Center, Reston Hospital Center and Stafford Hospital, as well as Sibley Memorial Hospital and Children's National Health System in the District, Suburban Hospital in Bethesda and Holy Cross Hospital in Silver Spring.
Kaiser officials said they plan to employ 185 people at the Woodbridge site, which would accommodate an additional 60 jobs following future expansion. They also expect the project would create 200 temporary construction jobs.
Kaiser officials said they will create a "health park" with recreational elements such as workout stations, trails, woodlands and "sensory nooks."
Documents show Kaiser is working with HKS Architects Inc. Law firm Cooley LLP is listed as the authorized agent and Annandale-based Dewberry Consulting LLC is listed as the engineer.
The project is among of a blitz of real estate moves by the health care in giant in Greater Washington this year.
Kaiser officials said they have invested more than $446 million across the region between 2012 and 2016.