https://www.bloomberg.com/news/articles/2018-08-14/investors-cash-out-of-hca-healthcare-as-stock-soars-to-record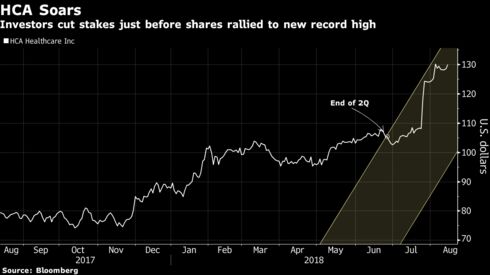 Long-term shareholders were cashing out of HCA Healthcare Inc. in the second quarter, as the stock rallied to record highs in late June — levels since eclipsed by bigger gains this quarter.
Hedge funds Glenview Capital Management, Highfields Capital Management, Wellington Management Group, Magellan Asset Management and Harris Associates cut their stakes in the hospital chain, which saw its shares rise 17 percent in the first half and an additional 27 percent so far this quarter. The investment firms sold a combined 17.3 million shares, according to their latest 13F filings.
After being under pressure for nearly two years, hospitals have staged a comeback in 2018, outperforming most of their health-care peers with a 21 percent gain. The rally was led by Tenet Healthcare Corp., which has more than doubled, and HCA, which saw earnings and patient visits improve. HCA was also among hospitals uniquely benefiting from the U.S. corporate tax overhaul.