https://www.healthaffairs.org/do/10.1377/hblog20200729.217545/full/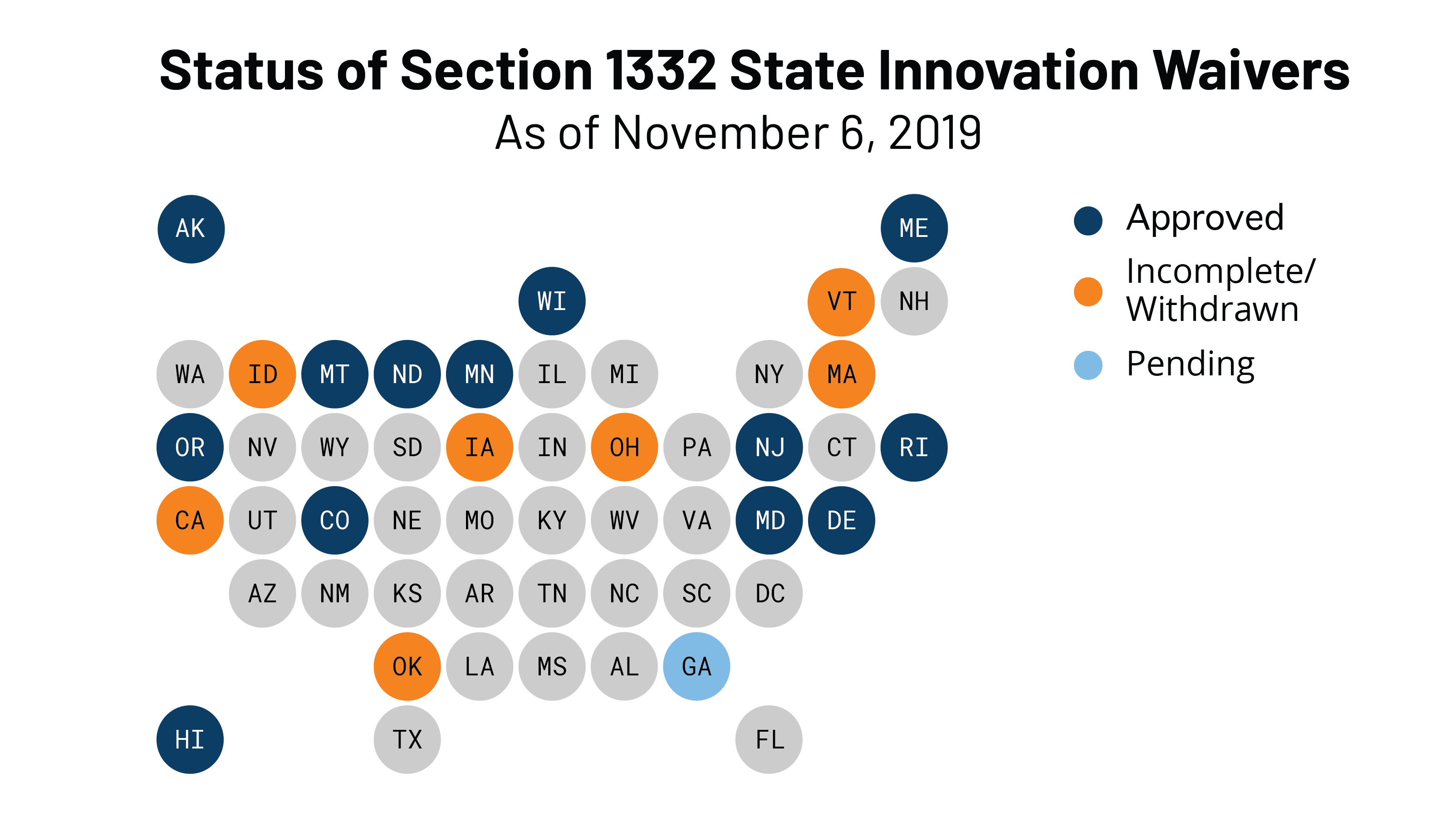 On July 24, 2020, the Centers for Medicare and Medicaid Services (CMS) and the Treasury Department approved Pennsylvania's waiver application to operate a state-based reinsurance program under Section 1332 of the Affordable Care Act (ACA). This makes Pennsylvania the thirteenth state to be approved for a state-based reinsurance program. This post also summarizes the newest waiver proposal in Georgia.
Pennsylvania's Waiver And More On Section 1332 Waivers
In late June, Pennsylvania received federal approval for a five-year reinsurance program beginning with the 2021 plan year. The state's $139.3 million reinsurance program is expected to reduce premiums by about 4.6 percent (relative to what premiums would have been in the absence of the waiver) and increase enrollment in the individual market by about 0.5 percent in 2021. The federal government will contribute $95.1 million while state funds would account for about $44.2 million.
Implementation of the reinsurance program will coincide with a transition away from the federal marketplace to the new state-based marketplace, the Pennsylvania Health Insurance Exchange (Exchange). Both the reinsurance program and the Exchange were created in the same piece of 2019 legislation, which requires the Exchange to assess and collect fees—up to 3.5 percent of total monthly premiums—to support the reinsurance program. Pennsylvania expects to set the initial user fee at 3 percent of total monthly premiums. Each year, the Exchange will collect the user fee from insurers, deduct its operating expenses, and transfer the remaining funds to a reinsurance fund. In making reinsurance payments to insurers, Pennsylvania intends to first exhaust federal pass-through funding and then user fee revenue.
Based on CMS data, Pennsylvania insurers paid HealthCare.gov user fees of about $98.1 million for 2018 and about $83.1 million for 2019. (CMS has released 2018 and 2019 user fee data for each state that uses HealthCare.gov.) User fees in 2018 and 2019 were set at 3.5 percent of premiums, although the federal user fee was reduced to 3 percent for 2020.
Like nearly all states with reinsurance programs, Pennsylvania will use an overall attachment point model with parameters set annually by the insurance department. For 2021, the program is expected to reimburse insurers for 60 percent of claims between $60,000 and $100,000. To ensure program flexibility, the insurance department can make payments on a pro rata basis if funding is insufficient. Pennsylvania also intends to leverage the EDGE server maintained by CMS to determine how much each insurer is due. (This issue—whether and how states could leverage EDGE server infrastructure for reinsurance—has come up in at least one other state as well.)
Pennsylvania's waiver application was submitted on February 11 and deemed complete on March 12. Federal regulators received and considered two supportive comments on the state's application. In an approval letter to Commissioner Jessica Altman on July 24, the Departments laid out specific terms and conditions that the state must accept within 30 days for the waiver to go into effect. Once the waiver is accepted, the Departments will notify Pennsylvania of its amount of pass-through funding for 2021.
With Pennsylvania, 14 states have approved Section 1332 waivers. All but one approved waiver has been for a state-based reinsurance program, and CMS released a report on the effect of the 12 already-established state-based reinsurance programs. The report identifies the funding source for each state, program parameters, the impact on premiums by state and year, insurer participation, and enrollment. The average premium reduction for 2020 across all states was 17.7 percent. New Hampshire may be soon added to this list for 2021: the state's waiver application was submitted in late April.
Latest On Georgia's Waiver Application
Georgia submitted a waiver application in late December 2019. As discussed more here, Georgia's application had two phases: phase one is for a reinsurance program and phase two involves much broader changes to the state's individual market known as the "Georgia Access" model. Phase one was deemed complete on February 6, and review of phase two was "paused" to Georgia leaders could submit additional information.
Under the original Georgia Access Model, Georgia would have eliminated the use of HealthCare.gov, transitioned consumers to decentralized enrollment through private web-brokers and insurers, established its own subsidy structure, enabled the subsidization of plans that do not comply with all the ACA's requirements, and capped enrollment if subsidy costs exceed federal and state funds. The proposal was criticized for jeopardizing access to comprehensive coverage and failing to satisfy Section 1332's statutory guardrails.
About five months after review was "paused," Georgia modified its waiver application, requesting that its reinsurance program be approved for 2022 (rather than 2021) and abandoning some initial components of phase two. The new waiver application was posted in early July and exposed for public comment until July 23.
The main change for phase two is that Georgia would no longer develop its own state-specific subsidy structure. Georgia would validate a consumer's eligibility for premium tax credits and then send this information to the federal government. The federal government would then issue the subsidies to insurers and reconcile subsidies during tax season. Subsidies would only be available for qualified health plans under the ACA, as they are now. But Georgia wants to conduct its own eligibility determinations because it believes doing so will be more accurate: the state can leverage existing infrastructure, use more recent employment data, and integrate Medicaid eligibility determinations.
The waiver would, however, still eliminate the use of HealthCare.gov, which would make Georgia the only state to do so. Marketplace consumers would be forced to transition to a highly decentralized enrollment system that uses web-brokers and insurers. As a summary of the revised application puts it, Georgia will "transition responsibility for front-end functions of consumer outreach, customer service, plan shopping, selection, and enrollment from the [federal marketplace] to the commercial market."
While federal subsidies could not be used towards non-ACA plans, Georgia continues to note that a benefit of moving away from HealthCare.gov to web-brokers and insurers is that residents could "view the full range of health plans" offered in the state. Georgia would leverage enhanced direct enrollment (EDE) standards which, as discussed more below, can lead to significant consumer confusion.
From here, Georgia will presumably respond to the latest round of public comment on its new proposal and then submit its revised application.