https://www.bloomberg.com/news/articles/2017-09-21/debt-sickened-a-hospital-giant-now-the-doctors-are-revolting?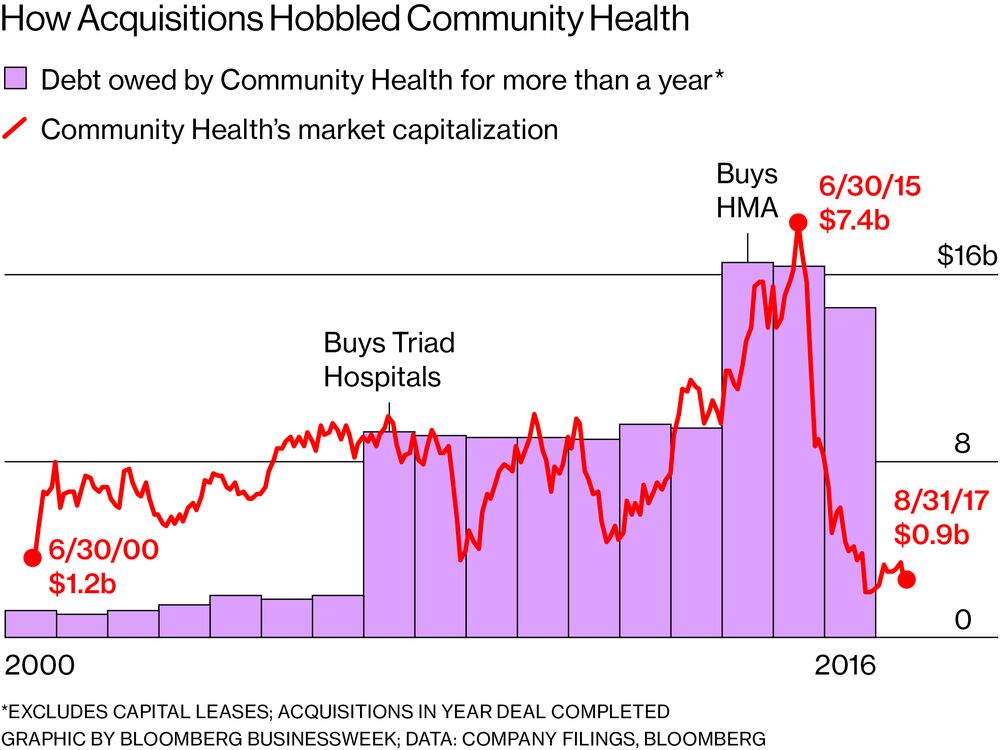 The standoff over Lutheran shows how for-profit chain CHS, once the nation's largest, allowed its facilities to decay, compromising care and destroying investor value.
Four doctors from Lutheran Hospital in Fort Wayne, Ind., showed up at parent company Community Health Systems Inc. in May with a message for Chief Executive Officer Wayne Smith and his board. Physicians were in widespread revolt, they said. Facilities were cash-strapped and crumbling. Powerful locals wanted CHS to reinvest or leave.
The doctors urged Smith to sell the eight-hospital Lutheran Health Network to their physician group, which already owned a 20 percent stake, and an investor partner, for $2.4 billion—triple CHS's current market value. The combative 71-year-old CEO denied authorizing cost cuts in Fort Wayne and demanded the names of those who did, say people in the meeting. The board refused the offer, and rather than pursue the budget-cutters, Smith fired Lutheran's CEO, who'd sided with the doctors.
The standoff over Lutheran provides a window into how CHS, once the largest for-profit hospital chain in the U.S., has allowed facilities to languish, possibly compromising care and destroying investor value in the process. Smith presided over a decade-long acquisition binge that saddled CHS with total debt of almost eight times its earnings and a network of underperforming facilities. The company lost $2 billion in the past six quarters, during which doctors from Key West to Spokane have accused the chain of pinching pennies and regulators have fined it for overcharging Medicare. Says Indiana Republican Representative Jim Banks, who's sided with the Fort Wayne doctors: "It's buy, squeeze, and repeat."
"At some point you reach a dead end, and you can't cut the expenses anymore"
Smith took CHS public in 2001, just four years after coming to the company from Humana Inc., where he'd been head of hospital operations. The big acquisitions began in 2007, when the chain bought Texas-based Triad Hospitals Inc. for $6.4 billion, more than quadrupling its debt. Smaller deals followed. By the end of 2014, CHS had nearly doubled its debt again to finance its buyout of Health Management Associates LLC (HMA), a Florida-based group of mostly rural facilities that required costly upgrades.
Smith's plan was to try to increase doctor productivity and slash costs, often replacing experienced doctors with loyal patients for younger ones who were willing to work longer hours. Like most for-profit operators, "they focused on cost control," says Joshua Nemzoff of Nemzoff & Co., who advises hospitals on sale transactions. "At some point you reach a dead end, and you can't cut the expenses anymore."
Along with the rest of the hospital industry, CHS expected the Affordable Care Act to provide a windfall of insurance money from the newly covered. Investor enthusiasm soured when 19 states—including Florida and Texas, two key CHS markets—declined to expand Medicaid eligibility, leaving many low-income people without coverage. At the same time, insurers and other government programs began working to divert patients from hospitals into doctors' offices, outpatient clinics, and other less expensive venues. The combined effect was particularly hard on rural hospitals, a large share of CHS's network.
Raising prices while slashing costs has been a hallmark of CHS under Smith. In Fort Wayne, Lutheran charges more than rival Parkview Medical Center Inc. for 8 of 10 common medical procedures. During the first half of this year, patients were placed in beds in Lutheran's emergency room hallways because the wards they should have been moved to were understaffed, and a leaking air conditioner in the neonatal care unit was dripping water on infants' beds, according to people familiar with the conditions. While Parkview invested in its cancer and cardiac units, Lutheran doctors said at the board meeting that the CHS hospital was using lower-priced monitors they feared would miss potentially fatal heart rhythms.
Company spokeswoman Tomi Galin said in an email that many other hospitals use the same monitors. Nevertheless, CHS plans to spend $500 million on improvements and will recruit new doctors at Lutheran, she wrote, adding that employee retention there is rising.
Other critics of Smith have taken their complaints to court. After Gregg Becker quit his job as chief financial officer of CHS's Rockwood Clinic in Spokane, Wash., in 2012, he filed a whistleblower claim with the U.S. Department of Labor, saying his superiors told him to reduce the facility's forecast loss from $12.8 million to $4 million and threatened to fire him if he didn't. Becker was awarded a settlement of almost $1.9 million by an administrative law judge, according to court documents. CHS has appealed the case to the Washington Supreme Court and the federal Arbitration and Review Board. (CHS sold Rockwood earlier this year.)
In 2014, CHS agreed to pay $98.15 million to the Department of Justice to settle lawsuits in five different districts accusing the company of charging for higher-cost inpatient services at hospitals, including Lutheran, when less expensive outpatient services would have been sufficient. CHS didn't admit wrongdoing. But the DOJ in a statement said the company had "engaged in a deliberate corporate-driven scheme to increase inpatient admissions of Medicare, Medicaid, and the Department of Defense's Tricare program."
With losses mounting and the stock down more than 80 percent from its peak in June 2015, Smith has resorted to selling hospitals to pay off debt. One result: CHS will soon be about the same size it was before it attempted to digest HMA. Hedge fund ASL Strategic Value, a CHS shareholder, sent a letter to the board on Aug. 8 asking directors to replace Smith. Tom Kelley, a Fort Wayne car dealer whose employees rely on Lutheran for care, quit the Lutheran board in July and says he's reviewing his employee medical plan. He tried and failed to broker a peace deal between the doctors and Smith.
"He's a street fighter," Kelley says of Smith. "He has survived government actions against him. He has survived lawsuits. He has survived all of this by being a tough SOB."
BOTTOM LINE – 
Community Health Systems used acquisitions to become a major for-profit hospital operator. But the added heft wasn't matched by profitability gains.