https://www.axios.com/vitals-2497054515.html
Good morning … Last week gave us an executive order and an end to cost-sharing payments. Can't wait to find out what the health policy universe has in store for us this week.
Who will pay more without CSR subsidies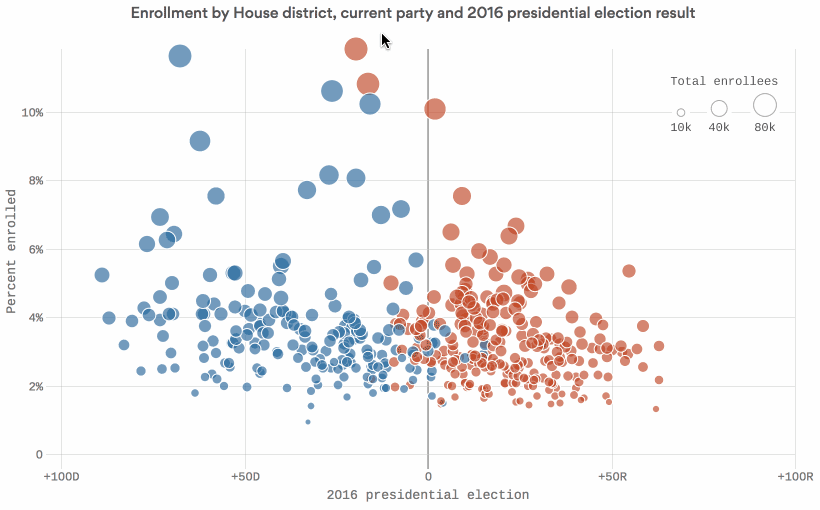 Data: Kaiser Family Foundation; Daily Kos Elections; Census Bureau; Chart: Chris Canipe / Axios
The Trump administration's decision to stop paying the Affordable Care Act's cost-sharing reduction subsidies will affect ACA customers in Republican-leaning congressional districts as well as Democratic ones. Here's a look at how many people could feel the impact in districts that voted for President Trump, compared with those in districts that voted for Hillary Clinton.
The details: This year, 11.1 million people were enrolled in ACA marketplace plans or in a Basic Health Plan created by the law. Of those, 5.9 million live in Republican-held congressional districts and 5.2 million live in districts held by Democrats, per the Kaiser Family Foundation.
The impact: The CSR subsidies are going to 58% of the people who are enrolled in ACA marketplace plans. In all, about 7 million people don't receive any financial assistance with their premiums, so they'd pay the full cost when health insurance companies raise their rates. But others could be affected if health insurers decided to pull out of the markets rather than deal with the instability.
The flaws in Trump's legal rationale
There are broader implications of the Trump administration's decision to lean so heavily on a legal rationale for cutting off the CSR subsidies: institutional divisions between the executive and legislative branches.
Between the lines: The White House said it was ending the payments in part because of a ruling last spring that said it was unconstitutional to make the payments without an explicit appropriation from Congress. As part of that process, Attorney General Jeff Sessions wrote a memo saying, in effect, there was no point appealing that ruling.
"Opening the door to lawsuits initiated by Congress over the specifics of how the executive branch spends tax dollars would be a marked change and a potential threat to the White House," the New York Times' Carl Hulse noted over the weekend.
Trump might particularly wish he hadn't conceded that point if Democrats retake control of the House and/or Senate while he's still president. Divided government is how this lawsuit started, after all.
Real talk: Former White House strategist Steve Bannon, speaking at the Values Voters Summit over the weekend, cut to the heart of Trump's decision: "Not going to make the CSR payments, going to blow that thing up; going to blow those exchanges up, right?"