https://www.beckershospitalreview.com/human-capital-and-risk/nursing-named-most-trusted-profession-for-16th-consecutive-year.html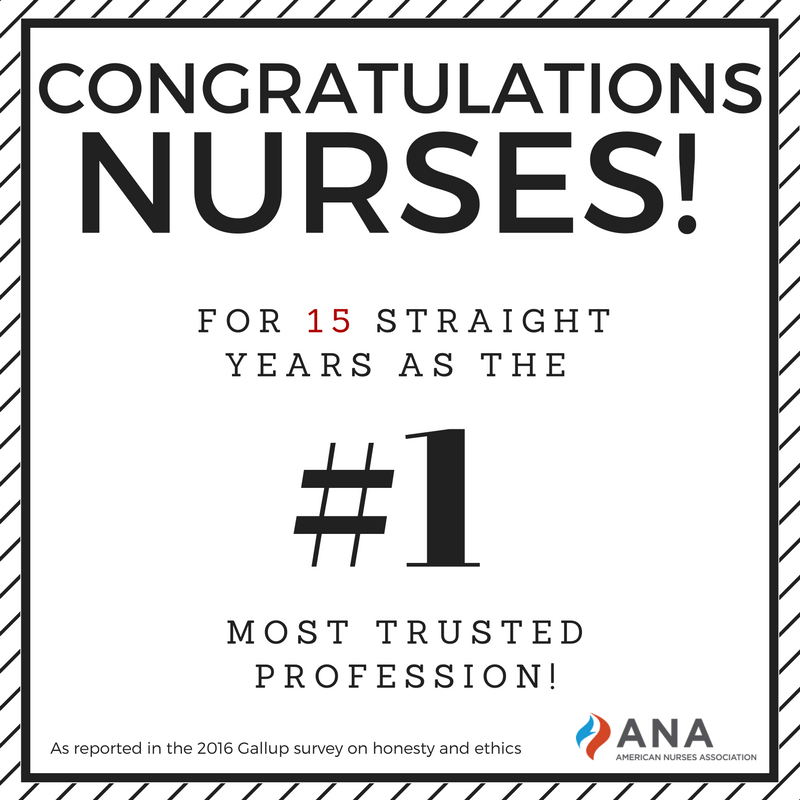 Nurses are the most trusted professionals in the United States, according to the 2017 edition of Gallup's annual poll. The poll marks the 16th consecutive year nursing topped the list as the most honest and ethical profession.
For the 2017 poll, Gallup asked a random sample of 1,049 U.S. adults to rate honesty and ethical standards for 22 occupations. The respondents selected ratings of very high/high, very low/low or average.
Healthcare providers took three spots in the top five most trusted professions, with a high percentage of respondents rating their honesty and ethical standards as very high or high. They are listed below along with their rank:
Nurses (1) — 82 percent rated honesty and ethical standards very high or high
Medical doctors (4) — 65 percent
Pharmacists (5) — 62 percent
Since Gallup first included nurses in the survey in 1999, respondents have ranked the frontline providers as the most trusted profession in all but one year. In 2001, firefighters topped the list after Gallup included the profession in the poll in the wake of 9/11.
"Nurses provide much more than bedside care," said Pamela Cipriano, PhD, RN, president of the American Nurses Association, in an emailed release. "We advocate for patients, deliver primary care, meet the complex needs of patients with chronic conditions, volunteer for disaster relief efforts, and are a trusted voice in boardrooms across the country."