https://www.newsbreak.com/news/2332181745145/moderna-says-booster-shot-likely-needed-before-winter?fbclid=IwAR2fAqw6inki5M8MV3pMgTgq3sHfQdMyC8Lu-Q8Aie9vsjM74rZHN9C_bvE
Moderna said Thursday that it expects a third dose of its coronavirus vaccine will be necessary before the winter, citing that protection from the shot will fade over time, The Hill reports.
The biotech firm confirmed that its vaccine maintained 93% efficacy six months after the second dose but said that a booster shot will likely still be needed before the winter.
"We are pleased that our COVID-19 vaccine is showing durable efficacy of 93% through six months but recognize that the Delta variant is a significant new threat, so we must remain vigilant," Moderna CEO Stephane Bancel said in a statement.
"Given this intersection, we believe dose 3 booster will likely be necessary prior to the winter season," the company said.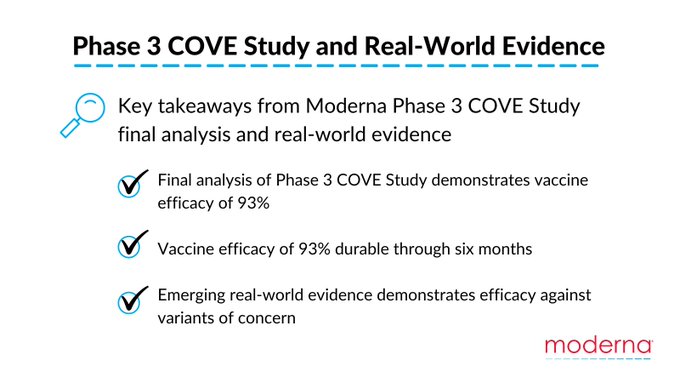 The 93% efficacy after six months announced by Moderna is a promising sign and compares to the 84% efficacy reported by the Pfizer vaccine.
While there is strong data for six months, the company warned that the rise of the delta variant will cause an "increase of breakthrough infections in vaccinated individuals."