https://thehill.com/opinion/campaign/508928-america-has-to-be-ready-for-mail-voting-to-avert-an-election-crisis
Valid concerns have been raised about mail voting. In New York, the local election boards have taken weeks to count primary ballots received in the mail as a result of the coronavirus, leaving several races for Congress still unresolved. The problems have been blamed on the late decision to send out the absentee ballot applications, outdated ballot counting machines, and the sheer number of mail ballots. The New York case raises a serious alarm with the 2020 election approaching and many states considering more reliance on mail voting in the midst of the pandemic.
Adding to this sense of urgency, President Trump has declared, without evidence, that mail voting is an open invitation to fraud and will be used unfairly against him this fall. He has tweeted that mail voting would make this the "most rigged" election in history. Setting aside the fact that states have relied on absentee and mail voting to hold secure elections for many years, the stumbles in New York and the irresponsible fear mongering by Trump raise the potential of a very real crisis come this fall.
Consider the national disruption surrounding the 2000 election, which was decided for George Bush after a recount in Florida, a month of legal battles, and a controversial split Supreme Court decision. After you add the factor of a second wave of coronavirus cases in the fall and a sitting president shouting "rigged!" to the rafters, and you can understand why some analysts worry that the period following the 2020 election may be one of the most disruptive contests in our modern history.
A crisis foretold, however, can be a crisis averted. Instead of wringing our hands over the recent problems with mail voting in New York, we have to learn from them and from the multiple states that have implemented mail voting systems without problems or fraud. Then states can make common sense preparations to ensure the process goes as quickly and smoothly as possible to prevent a potential election crisis in November.
The fact that election boards were overwhelmed by an influx of absentee ballots in New York must be the rallying cry for dedicating more resources to efficiently implement mail voting systems. Reducing funds available for mail voting initiatives, as some Trump supporters have advocated, in this era when many people have to rely on these ballots or literally risk death, will only serve to suppress voting, which may be the point.
Consider the case of Ohio for a glimpse of what a proactive mail voting initiative looks like. At the urging of Governor Mike DeWine, Republican and Democratic lawmakers unanimously approved their all mail voting primary that was successfully concluded in April. Governors and state legislatures across the country have to learn from Ohio, and additional federal funds have to be made available to assist the efforts.
All those claims that mail ballots are subject to rampant tampering is not evidence that they are, and it suggests the need to educate voters on the issue. Members of the Armed Forces have relied on absentee voting with mail ballots since the Civil War. Trump himself has voted absentee by mail. Meanwhile, three states allow ounties to conduct elections completely by mail if they choose, five other states conduct elections almost entirely by mail, and more than two dozen other states permit their residents to cast absentee ballots by mail without having to provide a reason.
Over 250 million votes have been cast using mailed ballots since 2000, according to the Vote at Home Institute, and yet exhaustive analysis has identified only a tiny fraction of cases of fraud. None of those states that hold their elections almost entirely by mail has seen voter fraud scandals. The bipartisan group Vote Safe, chaired by former Governor Tom Ridge of Pennsylvania and former Governor Jennifer Granholm of Michigan, notes that several studies have consistently proven that mail ballots are secure and do not advantage one political party over the other. The team rightly emphasizes that the goal of ensuring the safety of voters as they exercise their rights during a raging pandemic is not a partisan issue.
Whether we improve our voting systems or defund them, the use of mail ballots will inevitably be much greater in the 2020 election than in years past. We can prepare for this eventuality and find innovative ways to deal with the challenges that arise, or we can shift our gaze from another crisis foretold and suffer the major consequences come November.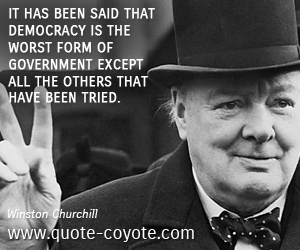 Winston Churchill noted that democracy is the worst form of government, except for all other forms that have been tried. In the midst of a pandemic across the country that has already claimed the lives of tens of thousands of Americans, exercising our right to vote by mail instead of in person may also seem like the worst solution, except for all other options.