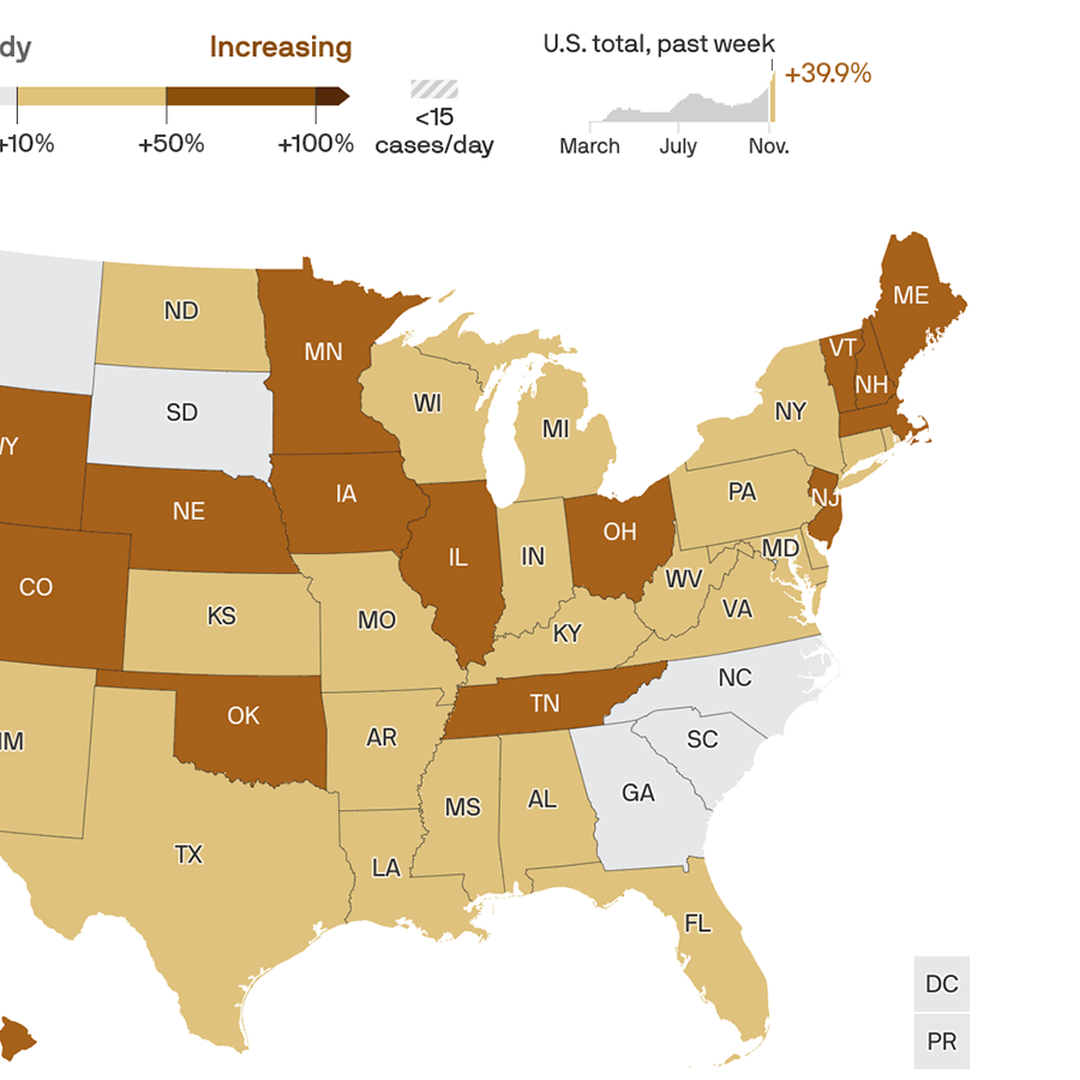 No state in America could clear the threshold right now to safely allow indoor gatherings, Axios' Sam Baker and Andrew Witherspoon report.
The big picture: This is bad as the pandemic has ever been — the most cases, the most explosive growth and the greatest strain on hospitals.
If businesses were closed right now, it would not be safe to reopen them. And holiday travel will be risky no matter where you're coming from or where you're going.
By the numbers: Over the past week, the U.S. averaged more than 154,000 new cases per day, the highest rate of the entire pandemic.
The number of new infections rose in 46 states

, held steady in three, and declined in only one — Hawaii.
This week's nationwide totals are a 30% increase over last week, which was a 40% increase over the week before that. Daily infections have been rising by at least 15% for the past six weeks.
Testing was up about 11% over the past week. The U.S. is now conducting about 1.5 million tests per day. That's a lot, but cases clearly are still rising faster than testing.
Between the lines: Whatever metric you might use to decide whether it's safe to have a large Thanksgiving get-together, or to sit inside a bar or restaurant, the answer is probably no.
Experts recently told The Atlantic that they wouldn't feel comfortable attending an indoor dinner party at all, but that it would be least risky in areas with only about 10–25 new cases per day, per 100,000 people.
At most, only about 27% of American counties meet that standard.
The bottom line: Eating and drinking indoors with large groups of people, at a time when 150,000 people are contracting the virus every day, is about as risky as it gets.