Category Archives:
Humanity
https://www.axios.com/coronavirus-death-toll-psychological-reaction-f5aab275-1c93-444e-9914-5b0bf8fe07d9.html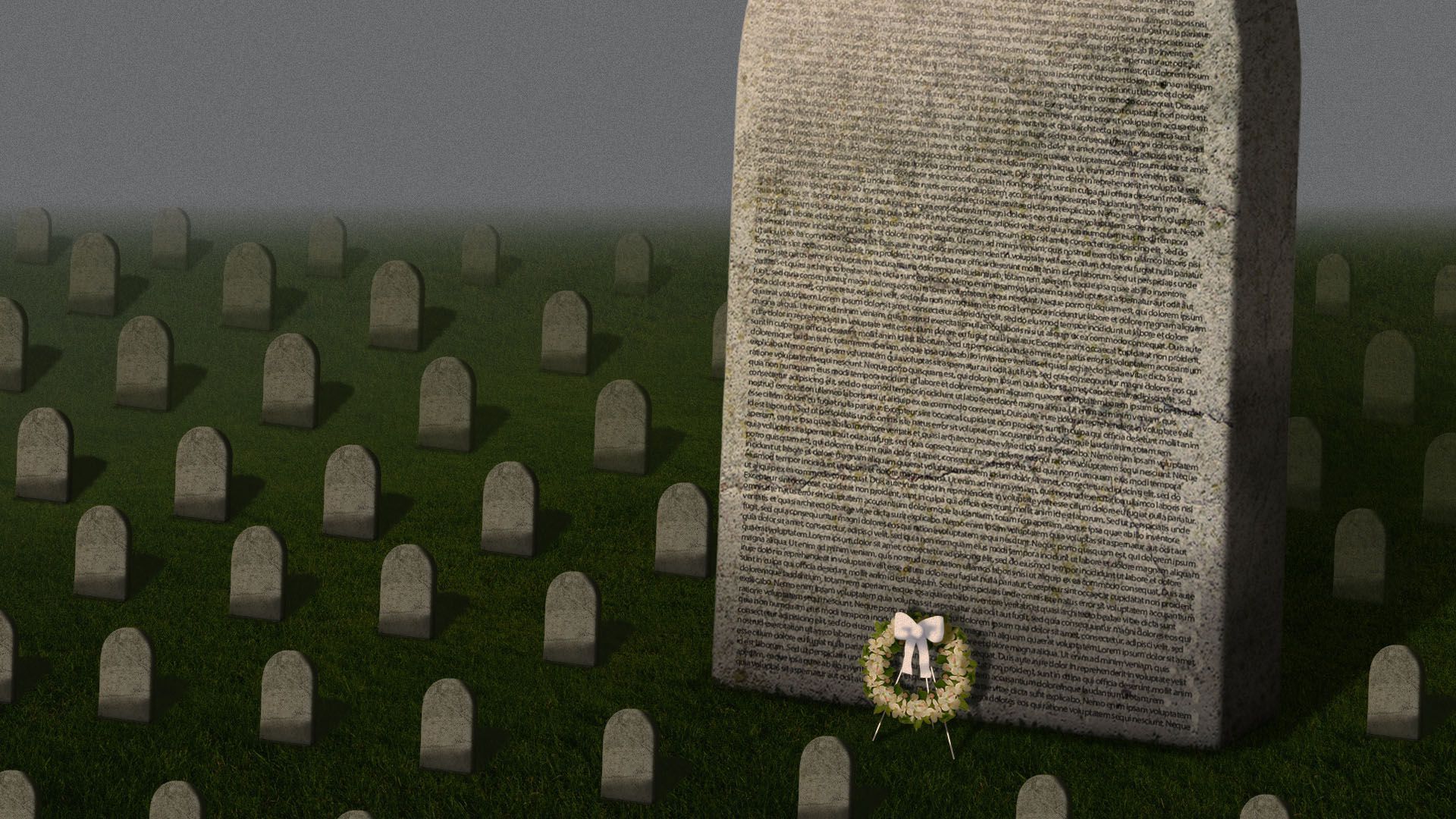 The U.S. passed 250,000 confirmed deaths from COVID-19 this week, a figure that is truly vast — too vast, perhaps, for us to comprehend.
Why it matters: The psychic numbing that sets in around mass death saps us of our empathy for victims and discourages us from making the sacrifices needed to control the pandemic, whileit hampers our ability to prepare for other rare but potentially catastrophic risks down the road.
By the numbers: The sheer scale of the U.S. death toll from COVID-19 can be felt in the lengths media organizations have gone to try to put the numbers in perspective. 250,000 deaths is:
Ten times the number of American drivers and passengers who die in car crashes each year, according to CNN.
More than twice the number of American soldiers who died in World War I, according to NPR.
Enough to draw a vast hole in America's heartland, if the deaths had all been concentrated in one area, according to the Washington Post.
Even if we try our best to grasp mass death, we inevitably come up against cognitive biases, says Paul Slovic, a psychologist at the University of Oregon who studies human judgment and decision-making.
The biggest bias is scope neglect:

as the scale of deaths and tragedy grows, our own compassion and concern fail to keep pace. As the title of one of Slovic's papers on the subject goes:

"The more who die, the less we care."
This is, of course, not rational — by any reasonable, moral calculation, we should find 250,000 deaths commensurately more horrifying than a smaller number. But in practice we don't, almost as if we had a set capacity for empathy and concern that tops out well below the scale of a pandemic.
It doesn't help that for most of us — save bereaved family members and health care workers on the front line — those deaths go unseen, hidden behind the walls of hospitals and funeral homes.
In a

news culture driven by the visual

— and equipped with a psychology moved by identifiable victims over mere numbers — that makes these deaths feel that much more unreal, and for some,

that much easier to deny altogether.

Combined with the habituation to trauma that has set in after months of the pandemic, it shouldn't be surprising that most of us are doing much less to fight the spread of COVID-19 now than we were in the spring, when the number of sick and dead were far lower.
How it works: In a study following the 1994 Rwandan genocide, in which 800,000 people were killed in a matter of months, Slovic and his colleagues asked a group of volunteers to imagine they were in charge of a refugee camp.
They had to decide whether or not to help 4,500 refugees get access to clean water. Half were told the camp held 250,000 refugees, and half were told it held 11,000.
The study subjects were much more willing to help if they thought they were assisting 4,500 people out of 11,000, and less willing if it was 4,500 out of 250,000 people. They were reacting to the proportion of those who would be helped, while neglecting the scope of the raw number.
Relatedly,in a 2014 study,

Slovic found a decrease in empathy

and a consequent drop in donations to save sick children as the number of victims rose, with effects being seen as soon as one child became two.
What to watch: These same cognitive biases make it difficult for us to fully appreciate chronic threats like climate change, or to prepare for rare but catastrophic risks in the future — like a pandemic.
Given how hardwired these biases are, our best bet is to try to steer into them, and keep in mind that each of these 250,000 deaths tells an individual story.
As the survivor Abel Herzberg said of the Holocaust: "There were not six million Jews murdered; there was one murder, six million times."
The bottom line: As the death toll rises, it will take willful effort not to become numb to what's happening. But it is an effort that must be made.
https://hbr.org/2019/02/the-dalai-lama-on-why-leaders-should-be-mindful-selfless-and-compassionate?utm_source=facebook&utm_medium=social&utm_campaign=hbr&fbclid=IwAR1V6SVujsniYZwOQMFJNIeg9po7ojuHG6NBaMJ_qtcwNOaUeJ3LYj86qog
Over the past nearly 60 years, I have engaged with many leaders of governments, companies, and other organizations, and I have observed how our societies have developed and changed. I am happy to share some of my observations in case others may benefit from what I have learned.
Leaders, whatever field they work in, have a strong impact on people's lives and on how the world develops. We should remember that we are visitors on this planet. We are here for 90 or 100 years at the most. During this time, we should work to leave the world a better place.
What might a better world look like? I believe the answer is straightforward: A better world is one where people are happier. Why? Because all human beings want to be happy, and no one wants to suffer. Our desire for happiness is something we all have in common.
But today, the world seems to be facing an emotional crisis. Rates of stress, anxiety, and depression are higher than ever. The gap between rich and poor and between CEOs and employees is at a historic high. And the focus on turning a profit often overrules a commitment to people, the environment, or society.
I consider our tendency to see each other in terms of "us" and "them" as stemming from ignorance of our interdependence. As participants in the same global economy, we depend on each other, while changes in the climate and the global environment affect us all. What's more, as human beings, we are physically, mentally, and emotionally the same.
Look at bees. They have no constitution, police, or moral training, but they work together in order to survive. Though they may occasionally squabble, the colony survives on the basis of cooperation. Human beings, on the other hand, have constitutions, complex legal systems, and police forces; we have remarkable intelligence and a great capacity for love and affection. Yet, despite our many extraordinary qualities, we seem less able to cooperate.
In organizations, people work closely together every day. But despite working together, many feel lonely and stressed. Even though we are social animals, there is a lack of responsibility toward each other. We need to ask ourselves what's going wrong.
I believe that our strong focus on material development and accumulating wealth has led us to neglect our basic human need for kindness and care. Reinstating a commitment to the oneness of humanity and altruism toward our brothers and sisters is fundamental for societies and organizations and their individuals to thrive in the long run. Every one of us has a responsibility to make this happen.
What can leaders do?
Be mindful
Cultivate peace of mind. As human beings, we have a remarkable intelligence that allows us to analyze and plan for the future. We have language that enables us to communicate what we have understood to others. Since destructive emotions like anger and attachment cloud our ability to use our intelligence clearly, we need to tackle them.
Fear and anxiety easily give way to anger and violence. The opposite of fear is trust, which, related to warmheartedness, boosts our self-confidence. Compassion also reduces fear, reflecting as it does a concern for others' well-being. This, not money and power, is what really attracts friends. When we're under the sway of anger or attachment, we're limited in our ability to take a full and realistic view of the situation. When the mind is compassionate, it is calm and we're able to use our sense of reason practically, realistically, and with determination.
Be selfless
We are naturally driven by self-interest; it's necessary to survive. But we need wise self-interest that is generous and cooperative, taking others' interests into account. Cooperation comes from friendship, friendship comes from trust, and trust comes from kindheartedness. Once you have a genuine sense of concern for others, there's no room for cheating, bullying, or exploitation; instead, you can be honest, truthful, and transparent in your conduct.
Be compassionate
The ultimate source of a happy life is warmheartedness. Even animals display some sense of compassion. When it comes to human beings, compassion can be combined with intelligence. Through the application of reason, compassion can be extended to all 7 billion human beings. Destructive emotions are related to ignorance, while compassion is a constructive emotion related to intelligence. Consequently, it can be taught and learned.
The source of a happy life is within us. Troublemakers in many parts of the world are often quite well-educated, so it is not just education that we need. What we need is to pay attention to inner values.
The distinction between violence and nonviolence lies less in the nature of a particular action and more in the motivation behind the action. Actions motivated by anger and greed tend to be violent, whereas those motivated by compassion and concern for others are generally peaceful. We won't bring about peace in the world merely by praying for it; we have to take steps to tackle the violence and corruption that disrupt peace. We can't expect change if we don't take action.
Peace also means being undisturbed, free from danger. It relates to our mental attitude and whether we have a calm mind. What is crucial to realize is that, ultimately, peace of mind is within us; it requires that we develop a warm heart and use our intelligence. People often don't realize that warmheartedness, compassion, and love are actually factors for our survival.
Buddhist tradition describes three styles of compassionate leadership: the trailblazer, who leads from the front, takes risks, and sets an example; the ferryman, who accompanies those in his care and shapes the ups and downs of the crossing; and the shepherd, who sees every one of his flock into safety before himself. Three styles, three approaches, but what they have in common is an all-encompassing concern for the welfare of those they lead.