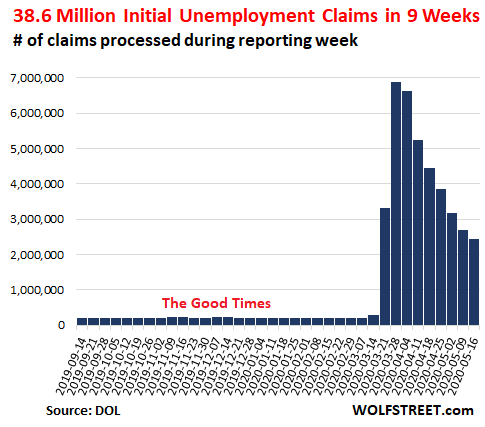 With over 38 million U.S. unemployment claims in nine weeks, one economist says the situation is "grimmer than we thought."
Even as restrictions on businesses began lifting across the United States, another 2.4 million workers filed for jobless benefits last week, the government reported Thursday, bringing the total to 38.6 million in nine weeks.
"I hate to say it, but this is going to take longer and look grimmer than we thought," Nicholas Bloom, an economist at Stanford University, said of the path to recovery.
Mr. Bloom, a co-author of an analysis of the coronavirus epidemic's effects on the labor market, estimates that 42 percent of recent layoffs will result in permanent job loss.
In this case, the economy that comes back is likely to look quite different from the one that closed. If social distancing rules become the new normal, causing thinner crowds in restaurants, theaters and stores, at sports arenas, and on airplanes, then fewer workers will be required.
Large companies already expect more of their workers to continue to work remotely and say they plan to reduce their real estate footprint, which will, in turn, reduce the foot traffic that feeds nearby restaurants, shops, nail salons and other businesses.
Concerns about working in close quarters and too much social interaction could also accelerate the trend toward automation, some economists say.
New jobs, mostly at low wages — as delivery drivers, warehouse workers and cleaners — are being created. But many more jobs will vanish.
"I think we're in for a very long haul," Mr. Bloom said.