https://www.axios.com/newsletters/axios-vitals-285240f4-9110-4c86-ad7e-e0c37085a957.html?utm_source=newsletter&utm_medium=email&utm_campaign=newsletter_axiosvitals&stream=top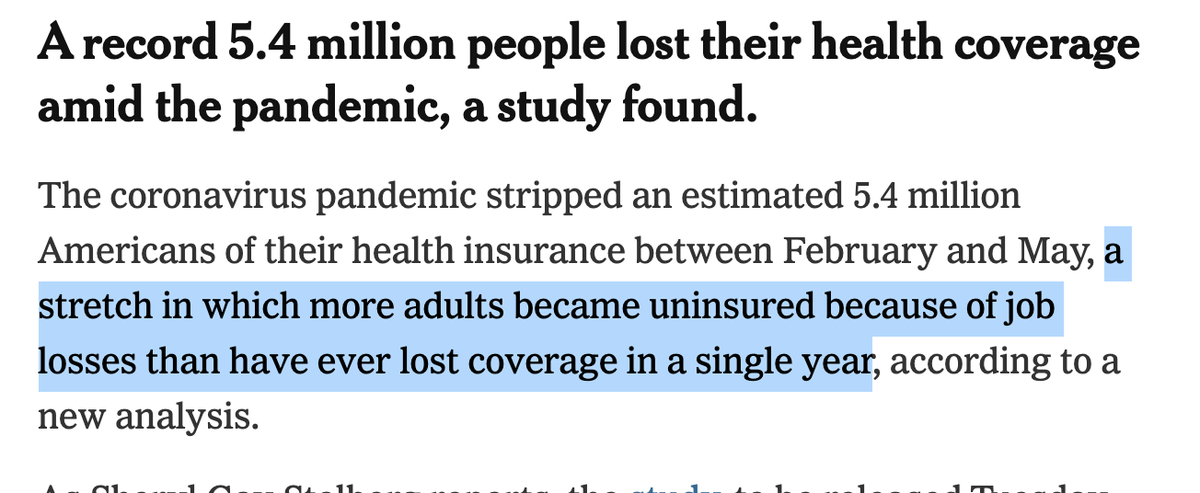 Roughly 5.4 million adults in the U.S. lost their health insurance from February to May after losing their jobs, according to a new estimate from Families USA, a group that favors the Affordable Care Act.
Why it matters: There are more adults under 65 without insurance in Southern states, which are the same states setting new records for single-day coronavirus infections along with rising hospitalizations, Axios' Orion Rummler writes.
What they found: 3.9 million adults lost health insurance over one year during the Great Recession, per Families USA's analysis. It only took four months in this current crisis for an estimated 5.4 million Americans to lose health insurance.
More than 20% of adults in Georgia, Florida, South Carolina, North Carolina, Mississippi, Oklahoma and Texas were without insurance as of May.
All of these states have set new records in the past two weeks for their highest number of coronavirus infections in a single day, per data from the COVID Tracking Project.
46% of adults who lost coverage due to the pandemic came from five states: Florida, New York, Texas, California and North Carolina.
The backdrop: 21 million Americans were unemployed in May, according to the Bureau of Labor Statistics' nonfarm payrolls report.