Category Archives:
Managed Care
https://www.managedhealthcareexecutive.com/news/5-things-consumers-want-healthcare?rememberme=1&elq_mid=9853&elq_cid=876742&GUID=A13E56ED-9529-4BD1-98E9-318F5373C18F
The healthcare system is not meeting the needs of the people who need it most, according to a new focus group study.
Based on nine focus groups of low-income consumers with complex health and social needs, "In Their Words: Consumers' Vision for a Person-Centered Primary Care System," from the Center for Consumer Engagement In Health Innovation (the Center) at Community Catalyst, also reported:
Poll participants reported:
• The primary care system is not meeting the needs of the people who need it most because they do not have the ability to form meaningful primary care relationships and the system does not address the impact that problems like transportation, housing insecurity, mental health issues, and more have on their overall health. "Consumers expressed the desire for a primary care relationship that is not necessarily tied to a credential [e.g., an MD], but rather one that is rooted in empathy for the significant challenges and barriers this population faces in their day to day life," says Ann Hwang, MD, director of the Center for Consumer Engagement in Health Innovation, a national, non-profit consumer health advocacy organization based in Boston. "These consumers don't feel that doctors have the time to listen to them, that their stuck on a profit-driven treadmill, regardless of if the institution is for- or not-for-profit."
• Unhappiness at a system they see as profit-driven.
• Strong desire for supportive services they do not get now, such as:
An ongoing relationship with a trusted provider;
Help navigating the complex health and social services system;
Providers with greater cultural sensitivity and empathy; and
A centralized place which would include mental healthcare and supportive services in addition to primary care (a "one-stop shop").
"The healthcare system has been going through major changes that are too often designed without meaningful input from the very people it exists to serve," Hwang says. "Because primary care is often the first point of entry for a consumer into the larger healthcare system, these focus groups were conducted to capture the perspective of consumers with complex health and social needs about what they need and want from their primary care relationship."
This reflects the mission of the Center for Consumer Engagement in Health Innovation which is to bring the consumer experience to the forefront of health system transformation to deliver better care, better value, and better health for every community, particularly vulnerable and historically underserved populations, according to Hwang.
"The voices in this report belong to people with complex health and social needs—a group that tends to include some of the highest-need and highest-cost patients.," she says. "As systems shift toward value-based payment and try to understand and address non-medical drivers of good health (i.e., social determinants of health), this kind of insight is critical to designing and delivering care that actually meets the needs of the people it serves."
Based on the poll, there are five takeaways for healthcare executives, according to Hwang:
Consumers want a long-term, trusting relationship with their primary care provider.
Consumers value a coordinator or navigator who can help them manage their care, connect them to social services and advocate for them when needed.
Consumers welcome a broader conversation with their primary care provider, not just focused on their medical treatment, but exploring the needs of the whole person.
Consumers want a "one-stop shop" where they could receive a wide variety of services under one roof, including medical services, mental health treatment and counseling, and social services.
Consumers hope for a provider who is culturally sensitive, able to relate to their life experience and struggle, and who uses language they can understand.
https://www.healthcaredive.com/news/myth-diagnosis-do-hospitals-charge-more-to-make-up-for-low-government-pay/560021/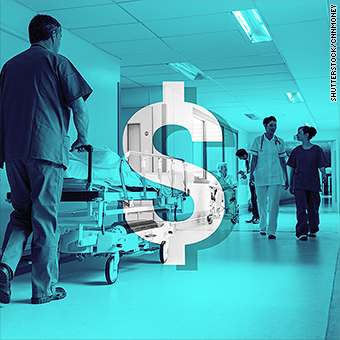 It's a mantra from providers to justify the disparate prices charged patients depending on their level of insurance coverage: It's all in the name of cost shifting to make up for stingy government reimbursement.
The idea is that hospitals bill commercial payers more to make up for low rates from government payers and the costs from treating the uninsured. Providers and payers both insist the practice occurs, but academics are skeptical — and the notion is notoriously difficult to measure.
No one is doubting that the prices are different depending on who is footing the bill. The issue is whether they are dependent on each other.
"What is crystal clear is that there's a huge unit cost payment differential between government and commercial payers," John Pickering of Milliman told Healthcare Dive. "What isn't clear is whether there's a causal effect between those two."
Heath economists, doctors and industry executives have been arguing about whether hospitals perform cost shifting for at least 40 years.
Government efforts to tamp down on runaway payments to providers may have sparked the debate. These include Medicare's shift from strictly fee-for-service reimbursement to the prospective payment system in the 1980s.
Also, the Affordable Care Act attempted to codify efforts to pay providers based on performance with initiatives like the Hospital Readmission Reduction Program and alternative payment models.
Part of the difficulty is untangling factors like differences in geography, quality and market share, said Michael Darden, an associate professor at Carey Business School.
The body of research on healthcare cost shifting is mixed. There is evidence that some hospitals perform cost shifting, but not strong and clear results showing hospitals make such adjustments consistently or what exactly is causing them.
The debate has received some renewed attention as more states approve Medicaid expansion under the ACA and as employers consider offering high-deductible health plans that patients on the hook for more costs, Rick Gundling, senior vice president for healthcare financial practices with the Healthcare Financial Management Association, told Healthcare Dive.
"As folks get more price-sensitive through higher cost-sharing with patients and employers and these types of things — it's certainly talked about. As it should be," he said.
Policy implications
The topic may get even more attention as healthcare has come to dominate the early days of the 2020 presidential election, at least among the 20-plus contenders running in the primary.
While still a long way off, a "Medicare for All"-type system seems closer than any time in recent history.
While not all of the proposals explicitly or fully eliminate the private insurance industry, some (including those put forward by Sens. Bernie Sanders, I-Vt., and Elizabeth Warren, D-Mass.,) do, and others would at least severely curtail it. One key question for those plans is whether government rates would have to increase in order to keep hospitals and providers above water, and if so, by how much.
To counter, President Donald Trump and his administration have stepped up their scrutiny of industry billing practices. These efforts include pushing Congress to ban surprise billing and executive orders to revamp kidney care in the country and advance price transparency.
For their part,  providers say they'll be forced to raise other rates if government programs pay less. Insurers will say the phenomenon means they must raise premiums to keep up.
In a statement to Healthcare Dive, America's Health Insurance Plans pointed the finger at rising hospital prices, spurred in part from provider consolidation. The payer lobby argued health plans do their best to keep out-of-pocket costs affordable for customers through payment negotiations and by offering a number of coverage options.
"However, insurance premiums track directly with the underlying cost of medical care. The rising cost of doctor's visits, hospital stays, and prescription medications all put upward pressure on premiums," the group said.
Employers care about this issue as well, especially those that self-insure, said Steve Wojcik, vice president of public policy for the National Business Group on Health. Coverage can get expensive for businesses because they don't get as good of a deal as government payers, he told Healthcare Dive.
Wojcik suggested more radical change away from fee-for-service payment arranges would be a better way of dealing with the issue. It's an argument for many who push the healthcare sector's slow march toward paying for quality and not quantity of treatment.
"I think, ultimately, it's about driving transformation in healthcare delivery so that there's more of a global payment for managing someone's health or the health of a population rather than paying piecemeal for different services, which I think is inflationary," he said.
Regardless, whether hospitals cost shift isn't as important as whether they go out of business. "We may be missing the point if we focus on cost shifting," Christopher Ody, a health economist at Northwestern University's Kellogg School of Management, told Healthcare Dive.
Charging as much as they can?
A paper Darden helped author in the National Bureau of Economic Research found some hospitals that faced payment reductions from value-based Medicare programs did negotiate slightly higher average payments from private payers.
Health economist Austin Frakt noted the ability to negotiate better pricing could be related to quality improvement these hospitals likely undertook, knowing their quality measures would directly affect future payments.
It comes back to determining causality, Frakt, who holds positions with the Department of Veteran's Affairs, Boston University and Harvard, told Healthcare Dive.
"It's an important distinction, because the simplest economic model which is consistent with the evidence is that hospitals charge as much as they can to each type of payer," he said. "So, they can't really change what they receive from Medicare — those prices are fixed. But they charge private payers whatever the revenue- or profit-maximizing price is."
Hospitals assert there is causality, but haven't pointed to evidence that convinced Frakt of their argument. Frakt, for the record, understand why hospitals make the argument to policymakers, however.
"I'm not implying that this, throughout, is just to make a profit," he said. "I think it's possible to also have the best interests of patients in mind and to have this argument."
Grundling said there has to be a breaking point somewhere so long as government rates fail to keep up with medical inflation. Also, hospitals have a federal legal responsibility to stabilize any patient regardless of ability to pay and have other philanthropic investments.
"It just puts a greater pressure on other payers in the system," he said.
Frakt said the argument providers give for cost shifting doesn't necessarily make sense for the average consumer. "It's very strange that people find it intuitive that hospitals can readily cost shift because we don't talk about any other industry like that," he said. "Nobody says, well, my theater tickets was so much higher because you paid less."
The idea that healthcare is vastly different from other industries is enduring, however, he said. "People don't even want to think of healthcare as having prices," he said. "How do you put a price on that?"